After you stun your guests with your exceptional taste in ceremony venue decors, your next concern will be on how you can pull off the same stunning effect (better if you can impress them even more) with your wedding reception venue.
You and your guests will probably spend more time on the reception venue so you would want to make the place look its best. Whatever your wedding theme may be, here are a few suggestions on wedding centerpiece ideas that will fit your wedding theme and also your budget.
Candles
As an alternative for flowers, candles are the most popular choice for wedding decorations. Candles come in many shapes, colors, sizes and scents. There are even different romantic-styled candle holders that will be great additions to your wedding reception tables.
Herbs
Aside from flowers, potted herbs will make great wedding centerpieces. They will make reception tables look and smell fresh. And if you are environment-conscious, potted herbs are a better way to go than using fresh flowers.
Take away plant wedding pieces
Aside from being wedding reception decorations, potted plants can also be your guests' wedding souvenirs. This way you'd save a pretty great amount from your wedding budget.
Seascape (corals, shells etc)
This type of decorations will work best if you are having a beach wedding. This type of centerpiece is exciting and interesting. Most of all, it already unites with the setting.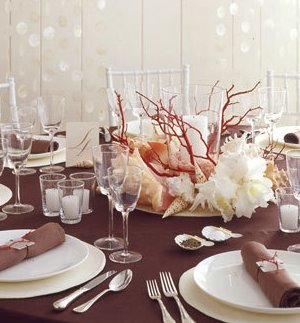 Wine bottles
Like take away potted plants, these wedding table decorations will also be a great wedding budget –saver. Wine is always a great souvenir for any occasion.
Dried wood/branches
This wedding décor idea is already pretty popular for modern-themed weddings. Manzanita is the most commonly used dried wood décor for weddings.
Cupcakes
Putting decorated cupcakes is a great centerpiece idea for a wedding. They are eye-candies and if your guests have a sweet tooth, they may be free to dig in on your unique and irresistible centerpiece.
Fabric flowers
There are available silk wedding flowers for rent that you may want to try for your wedding centerpieces. If you have pretty creative fingers, you may even try to do some fabric flower pieces on your own.
Fruits
Especially if you are doing your wedding during fall, fresh fruits will be a great fit for your wedding reception tables. Some would also get more creative and have carved fruits as decorative wedding centerpieces.
Vegetables
Aside from fruits, vegetables also have their fresh and decorative appeal that will also be a great decoration idea to your wedding reception venue.
Upside down/Turned over flower goblets
This wedding centerpiece idea is a great do it yourself decoration that wedding couples on a tight budget might want to try for their special day.
Flowers
Of course, the first and best choice in any wedding is floral décor centerpieces. Choose the best florist to pull off the perfect look for your wedding reception venue. The best florists always have the great designs perfect for your theme and of course they use only the freshest flowers for your wedding arrangements.